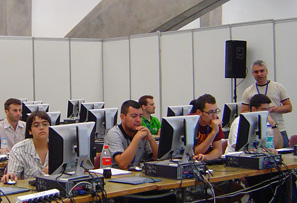 The in-company training mode allows to adapt our Drupal training plans to the needs and agenda of each company. It is thus achieved that development teams can be productive in implementing Drupal websites in the shortest time possible.
The most popular courses for companies have the following structure:
Drupal 7 Site Building (Beginner and Intermediate levels). 1 week, 25 hours.
Web technologies for Drupal: HTML, CSS, PHP and MySQL. 1 week, 25 horas. This course is optional for teams unfamiliar with these technologies.
Drupal 7 Development (Advanced level). 1 week, 25 hours.
It is also possible to do a mixed training with some onsite days to introduce each level and online practices to complete it.
All our courses, both online and onsite, include the Expert in Drupal 7 books (PDF) for each participant.
Application form for In-company courses
Group discounts (Online training Only)
If you want to register more than one person and take advantage of group discounts please contact us via info@forcontu.com or complete the form from "Application form - Groups".
Number of Students
2-4
5-9
10 +
5%
10%
20%
If general online courses does not adapt to your needs, we can create a customized course. Contact us and ask for a quote.