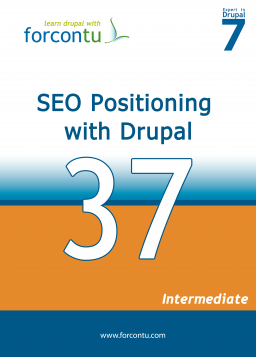 Version: 1.0 (07/05/2014)
24 pages, 1250 KB
$1.50
Taxes not included
Web positioning, also known as SEO (Search Engine Optimization), is a group of techniques that when applied to a website, improve its positioning or visibility in different search engines.
In this unit we will review some modules that can be useful for the optimization of a webpage in Drupal and improve it's positioning.
Search engines information modules:
XML sitemap, generates a site map for search engines.
Search 404, substitutes the error 404 page with a search with the URL not found.
Global Redirect, permanently redirects duplicate URL's to the adequate URL alias. 
Content Structure modules:
Meta tags, adds structured metadata to each page including Open Graph tags.
Page Title, to generate the page title (<title>).
Pathauto and Custom breadcrumbs, previously reviewed. 
Analysis and Optimization modules:
SEO Checklist, provides a verification list with modules and good SEO practices.
SEO Compliance Checker, verifies if the content complies with the defined SEO rules.
SEO Watcher, verifies the site ranking in search engines.
Content Optimizer and Content Analysis, to analyze and optimize the content. 
Unit contents:
37.1 Introduction to SEO Positioning
37.2 Information For Search Engines
37.3 Content Structure
37.4 Analysis and Optimization
Format eBook:
PDF without DRM
Can print
Can text copy
Single use licence