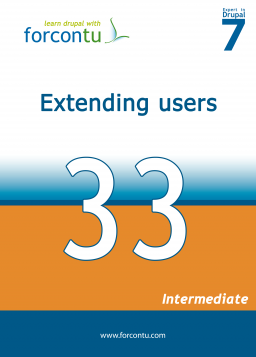 Version: 1.0 (07/05/2014)
31 pages, 1650 KB
$1.50
Taxes not included
Basic creation concepts and user management was reviewed in the initial level. In this unit, we will take a closer look at these processes and present the following modules that will provide additional functionalities:
Imagecache profiles, assigns different styles to the user images (profile image, commentary image, and node image).
Avatar Approval, facilitates the user image moderation process.
Author Pane, generates a block with user information.
Profile2, creates different types of profiles and associate them to users with roles and permissions.
Filter permissions, improves the management interface of permissions by incorporating additional filters.
Masquerade, we can pretend to be any other user on the site.
Content Access, allows access control by role to the different types of content.
User restrictions, creates rules to allow or deny access to users.
Login Toboggan, allows modification of the behavior of the access system or user login.
Login one time, send a single-use access link to a user.
Login Destination, redirect a user to specific routes when a site is accessed.
Views Bulk Operations, applied to the user views, allows operation to be carried out over multiple users. 
Unit contents:
33.1 User Images
33.2 Multiple User Profiles
33.3 Access Roles and Permissions
33.4 User Login
33.5 Massive Operations Over Users
Format eBook:
PDF without DRM
Can print
Can text copy
Single use licence