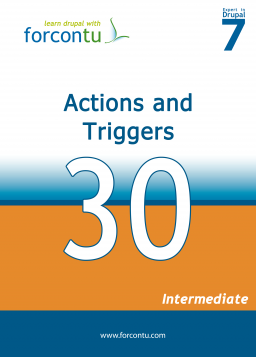 Version: 1.0 (07/05/2014)
9 pages, 650 KB
$1.50
Taxes not included
Drupal allows automatic execution of specific actions when certain events occur in the system; these events are called triggers.
Through these actions and triggers, we can, for example, send and email to specific site users when a node is created or modified, or block a user if certain words are detected as used in a published commentary by that user.
In this unit, we'll study how the site's actions and triggers are configured once the Trigger module has been activated. We'll also see how to create and configure advanced actions.
Unit contents:
30.1 Introduction to Actions and Triggers
30.2 Simple and Advanced Actions
30.3 Triggers
Format eBook:
PDF without DRM
Can print
Can text copy
Single use licence